Dreams in Transition
is a reflection and response focused on young immigrant women's dilemmas in a cultural transition to a new society. The project explores the importance of semiosis in the materials used, the technology, and how popular culture affects the young generation. Design can take part in significant change by understanding and addressing power, race, class, and gender, thus promoting cultural exchange and social transformation. The project's effect reinforces the sense of individuality and represents young women in a multidimensional approach, rather than just as immigrant women. Therefore, this project embraces their complex identities as a metamorphic construction. By working closely with the organization Papillon Bergen, I want my project to empower young women of all backgrounds and encourage them to tell their stories, express themselves, create opportunities and build a sense of trust and belonging.
The concept is a set of scarves that young girls can wear to statement their identities and lived experiences, using the feminist methodology to achieve our goal. In the first phase of this project, several young intercultural women participated in a comprehensive 12-week workshop. They visually shared their experiences to understand the importance of belonging, following your path, and being free to be who you want. The methods used are a combination of hand-painted color techniques and Augmented Reality (AR) which is now available on social media as a form of activism and empowerment. We reveal layers of representation through visual exploration and materialization of the concept of meaning-making. The goal is to communicate a message and reach out to as many people as possible. Technology can crowdsource any movement's message and can be used to stimulate social change and increase unheard voices.
Download a copy of Dreams in Transition MA Thesis here. 
See acknowledgment at the bottom of this page.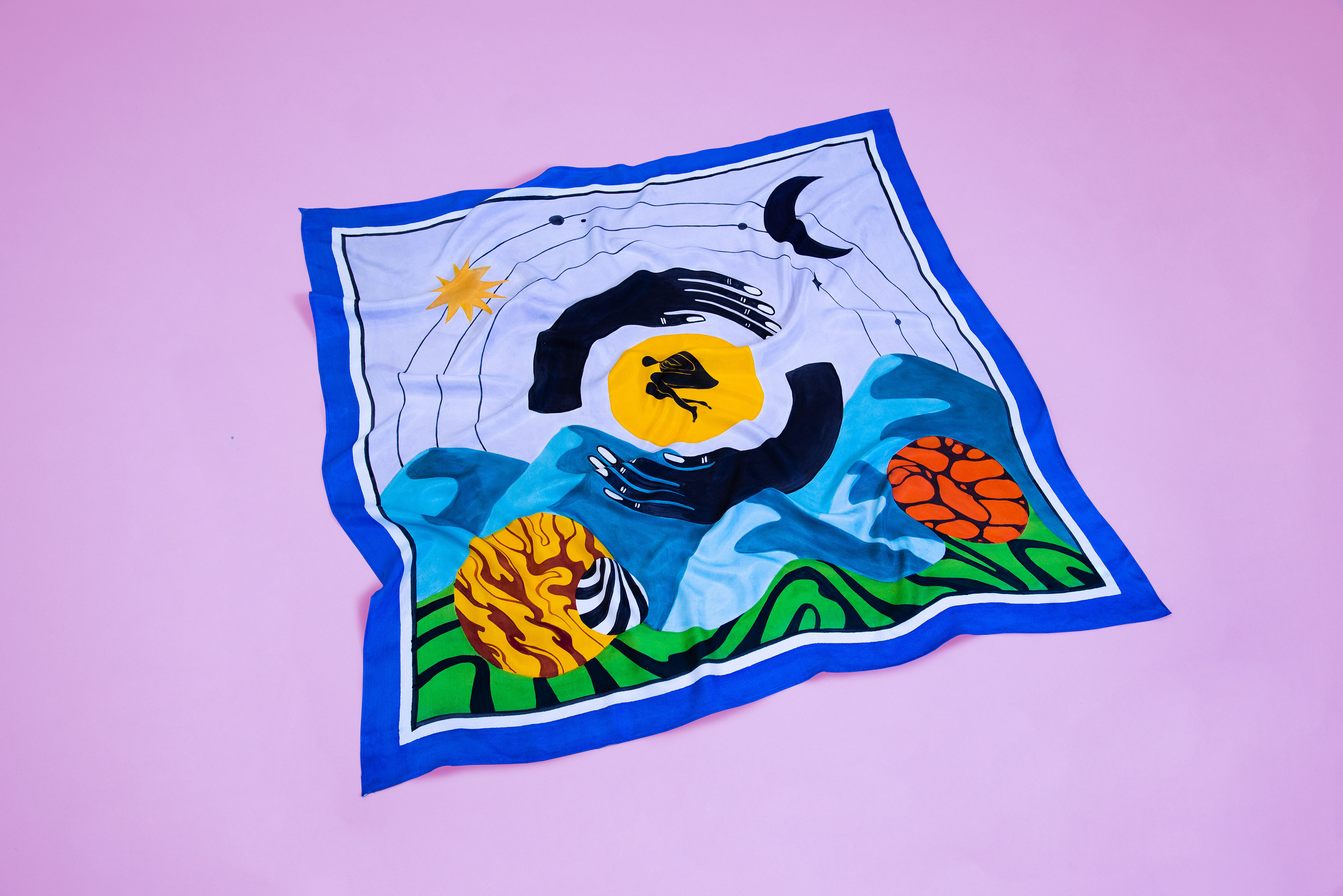 The collaboration with the organization Papillon and Rothaugen school made it possible to commit as a designer to focus on real-world issues that mean a lot to me and engage in an interdisciplinary environment. A special thanks to Leïla Rezzouk and her constant fight against exclusion. Papillon's team: Leïla Rezzouk, Arsiema Z. Medhanie, and Atia Ijaz for their kindness. Rothaugen School and the girls who took part in this project. A big thanks to Foreningen Trykkeriet and Rita Marghaug for providing a space to continue my research during challenging times. 
ANTI's team: Tom Morgan, Endre Beretzen, and Vera Gomez for their valuable feedback and support. Thanks to my brilliant classmates Amy van den Hooven, Lena Charlotte Bienert, and Theodore Folstad for a fantastic work dynamic, constant feedback, and attention. My tutor, Hilde Kramer, for her compassion when I need it the most and engagement in my project, and Dóra Ísleifsdóttir for giving me perspective. I am grateful to Arthur Hureau for his kindness in consistently providing me with the best equipment. Cathrine Kramer, for your advice and vision. Geir Goosen for his endless support and belief in me and my work.
Last but not least, my husband, John Jamtli, to whom I will be forever grateful for his infinite patience, care, commitment, support, guidance, and love. I dedicate this work and thoughts to my roots, my mother, Alba Luz. The light of my path.